Alumni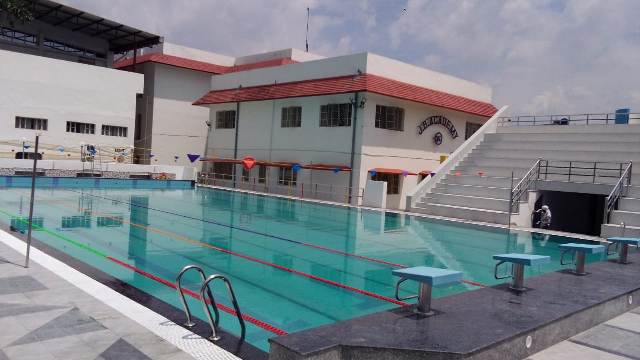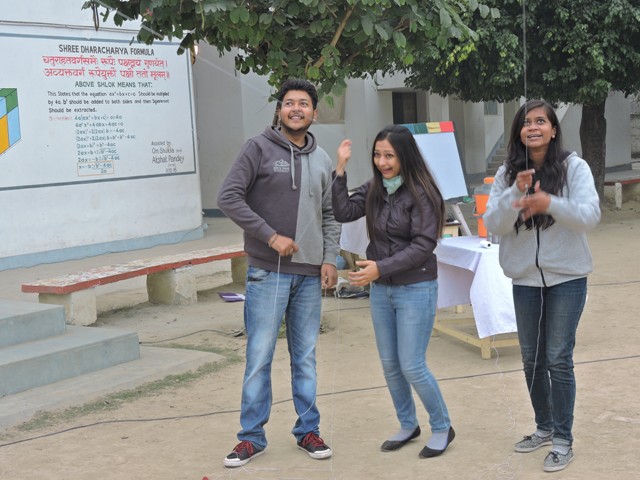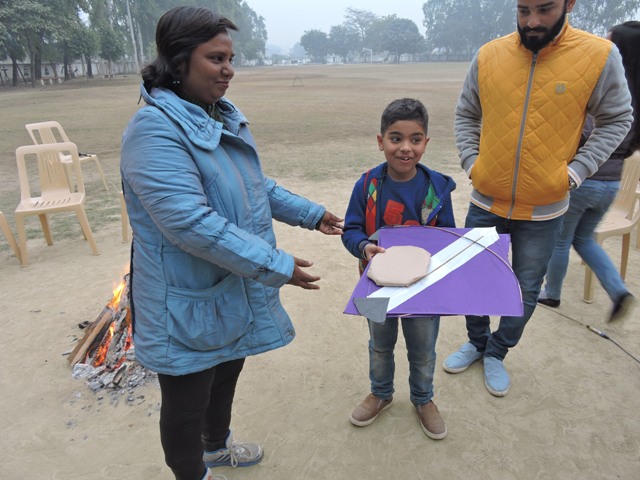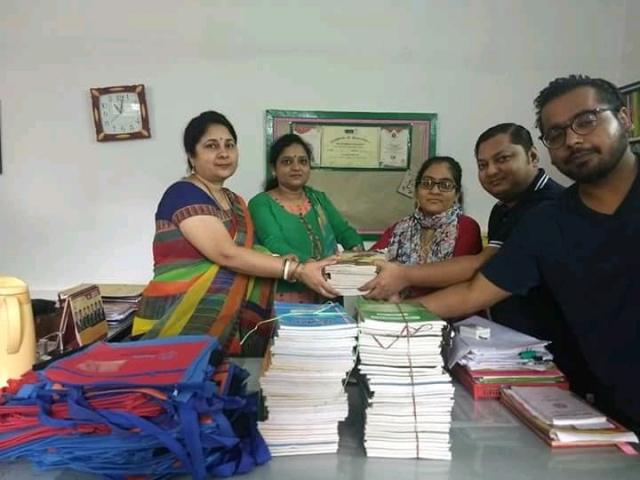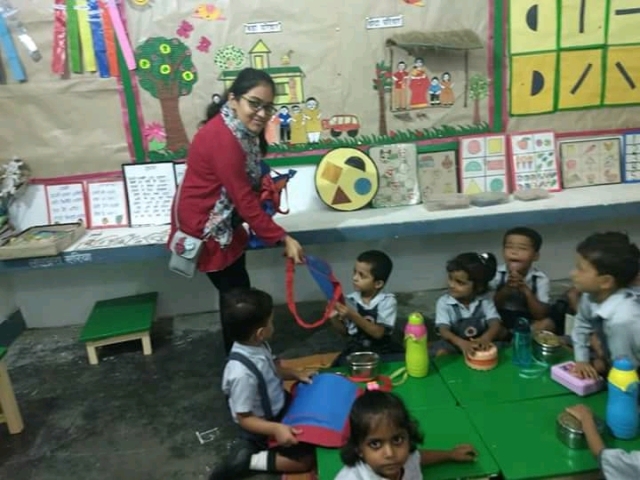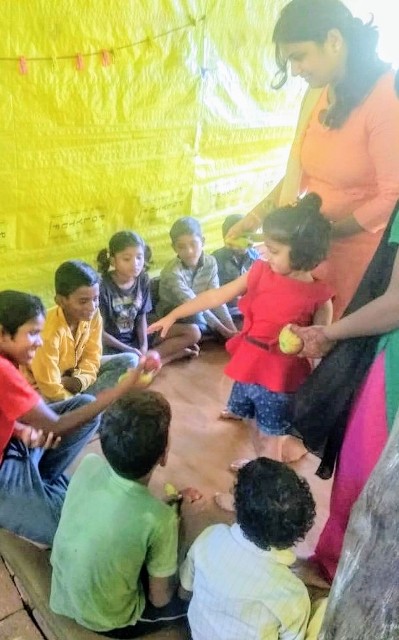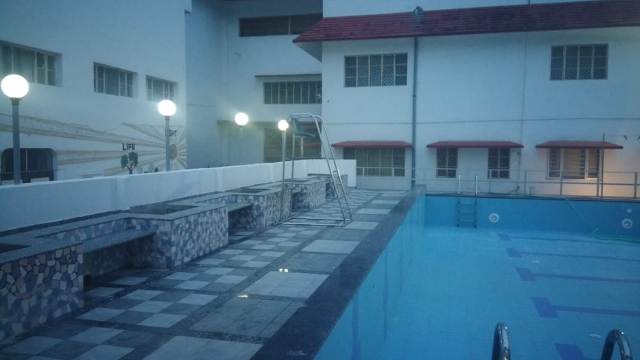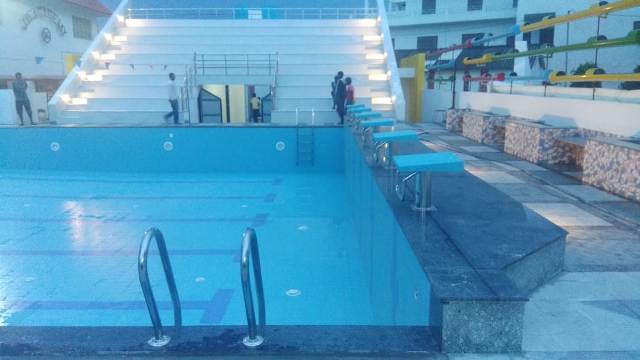 1. Gaurav Manucha and his beautiful wife Sakshi celebrated the birthday of their cute,little daughter 'Erisha' with the students of Aamar school(school of ragpicker children of migrant labourers) today.
They distributed fruits and sponsored 50 kg of health biscuits made of whole-wheat flour and soyabean flour to meet the nutritional requirements of these malnourished children. They also gifted 3 big air tight steel containers of 5 kg capacity each for storing these biscuits.
The children loved the treat, wished happy birthday to dear Erisha and recited poems for her.
We are really proud of Gaurav and Sakshi for this noble thought and endeavour!
A very happy birthday to dear Erisha.Wishing her a beautiful life ahead!
JBA has got it's own swimming pool now designed by alumni Akhilesh Maurya .It is open for the alumni and their family.
Opening from 1st September, 2018.
You can register yourself and enquire about more details at JBA and JBS reception desk.
3. School bags and notebooks were distributed to underprivileged children of Yash Vidya Mandir students.
Thanks to dear Alumni club members.
4. We had a fun-filled "Winter Dhamaal" evening with some JB Alumni greasing the Makar Sankranti and Lohri festivity in the school.
5. The pool party on 9th September, 2018 was truly a fun filled evening with sporty pool games like clustering, volley pool and dip & pass. Alumni also enjoyed heart throbbing music and mouth watering snacks. All participated actively with lots and lots of enthusiasm.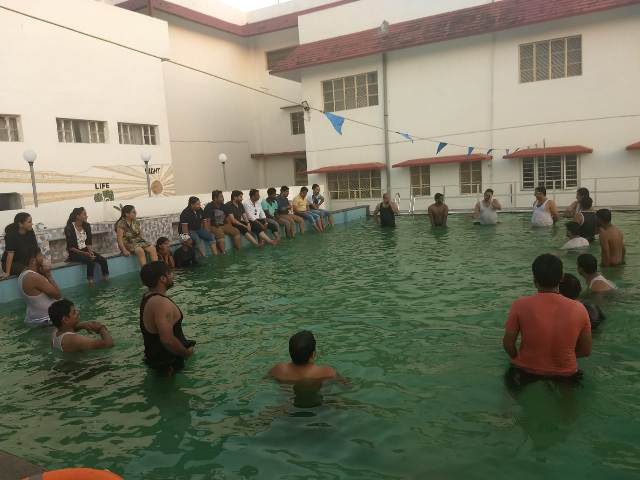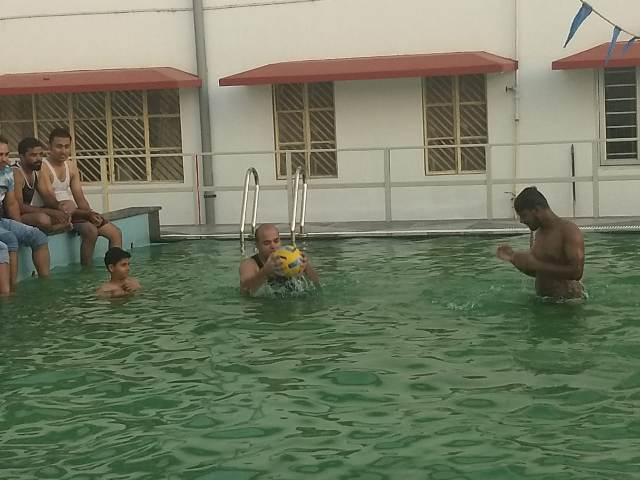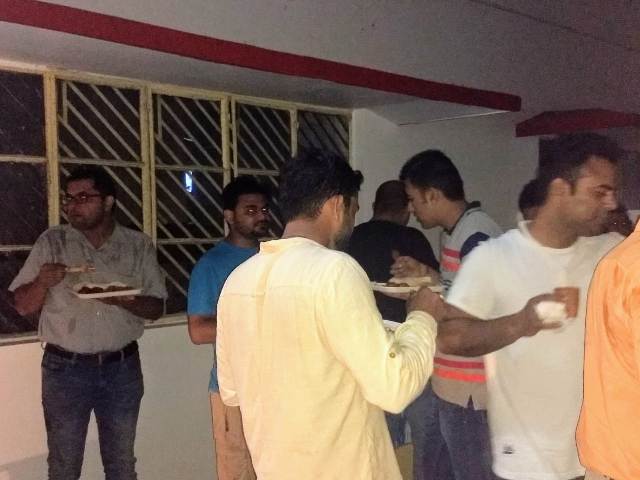 Thankyou dear alumni for gracing the event in large number.
Looking forward for the same enthusiastic participantion in our future events.
Some real talent in kite flying is seen and some were trying their hands for the first time. Nevertheless, all enjoyed the fun, dancing, theme based antakshari and group games along with refreshments kept them going for hours with energy and enthusiasm. It is a pleasure to have them with us always....

 
Model United Nations (MUN) was organized for the first time at JBA which witnessed a two day complete 
continuous sessions of debates and discussions amongst the delegates under the able guidance of Skand Agarwal ,

JB Alumni. The support given by JBA fraternity in providing this great learning opportunity is appreciable. 
Thanks Skand Agarwal for your initiative,effort and meticulous execution of such an immaculate programme to be 
always remembered and cherished.
​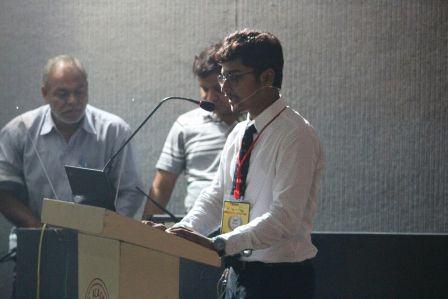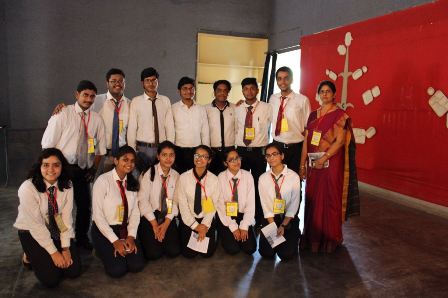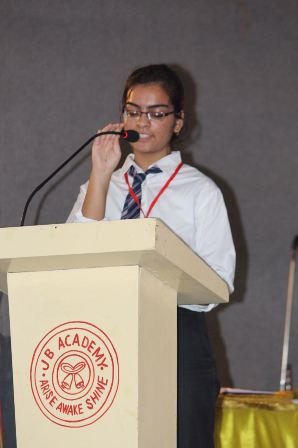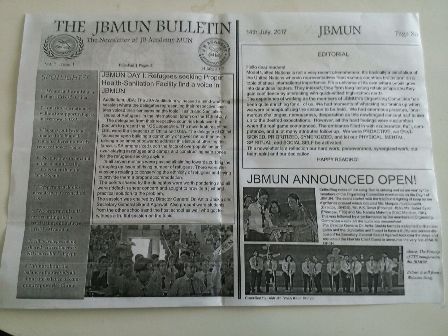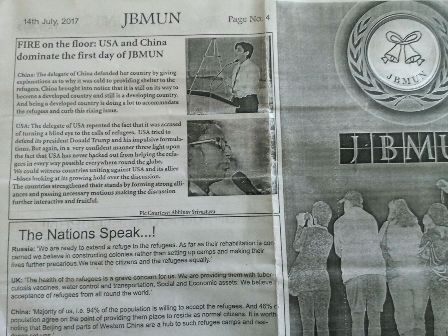 Donation of 92 books and 100 copies by JB Alumni to Govt.model school ,Usru.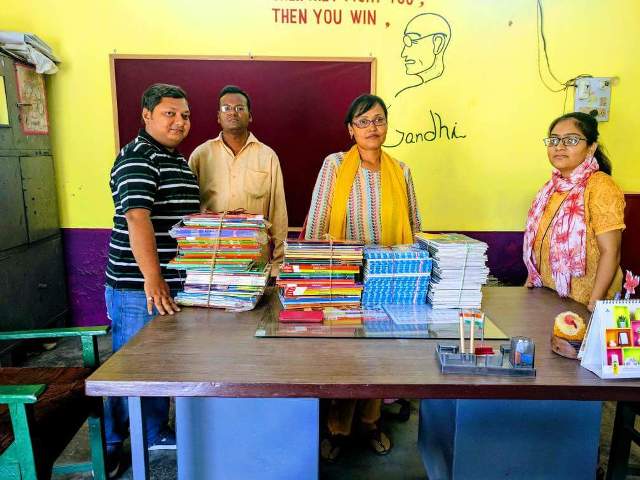 Donation of books for Faizabad community by JB Alumni to Rajkiya zila pustakalaya...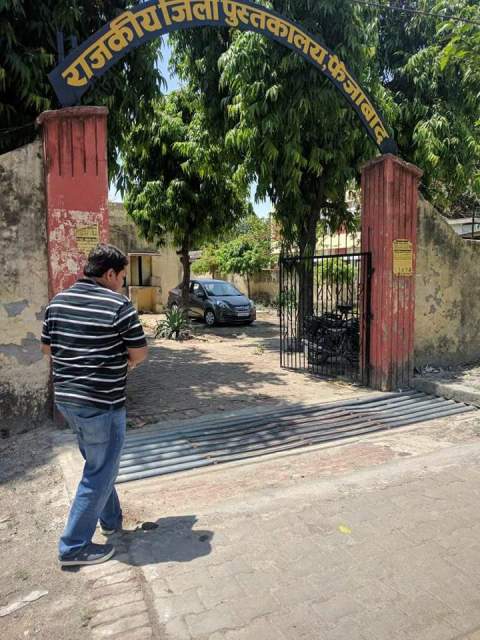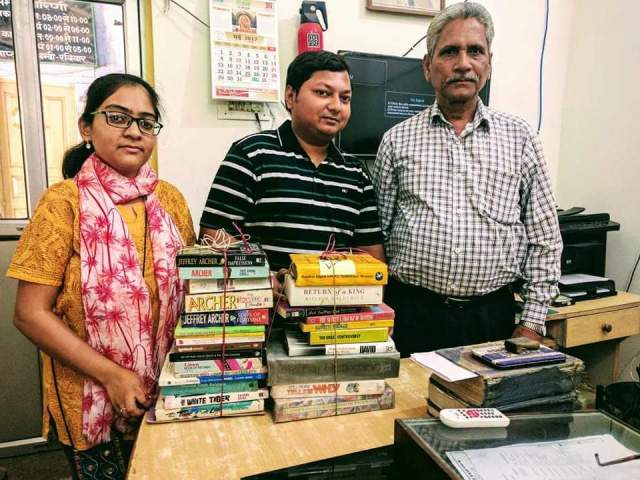 Presentation by Krishan Agarwal(JBA Alumnus) to Steering Committee members of JBNSS regarding ability enhancement programme for special children.
Thanks him for being so thoughtful.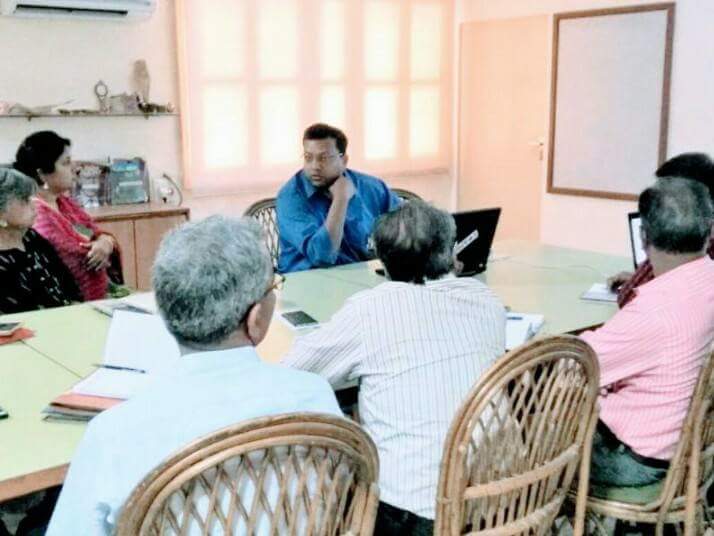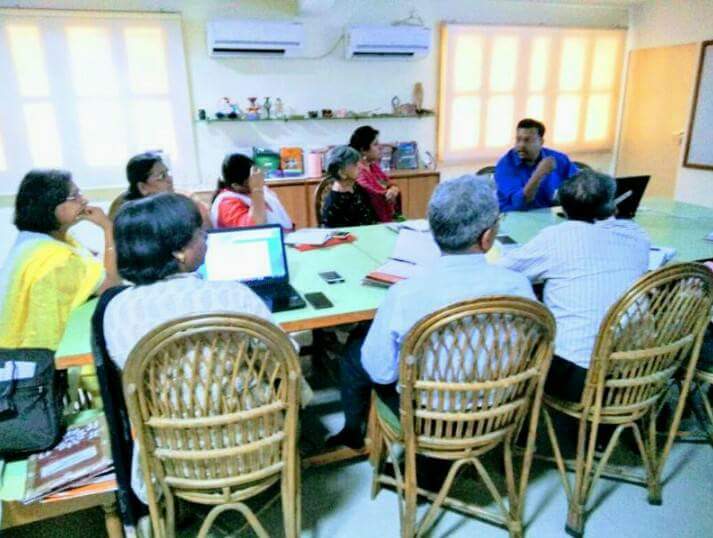 Some bags were distributed by Alumni to helping staff of JBNSS Head office,Pitara craft n cafe and JB Montessori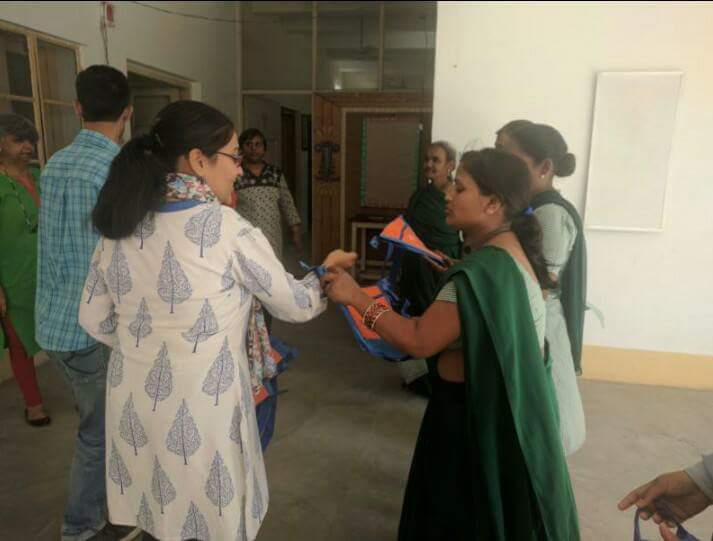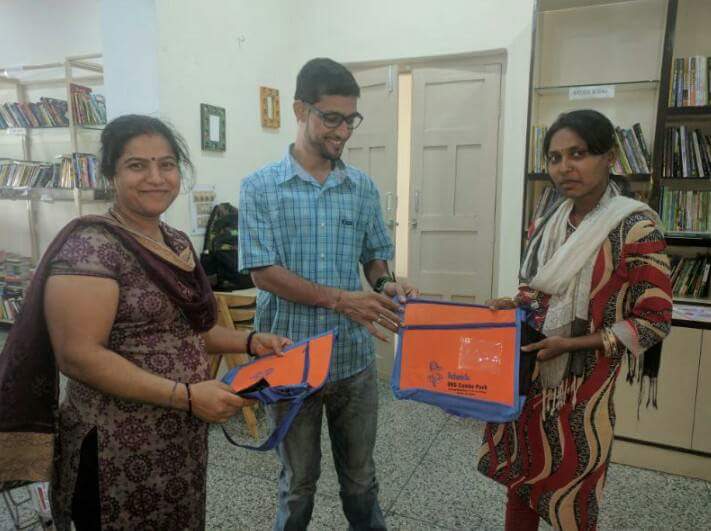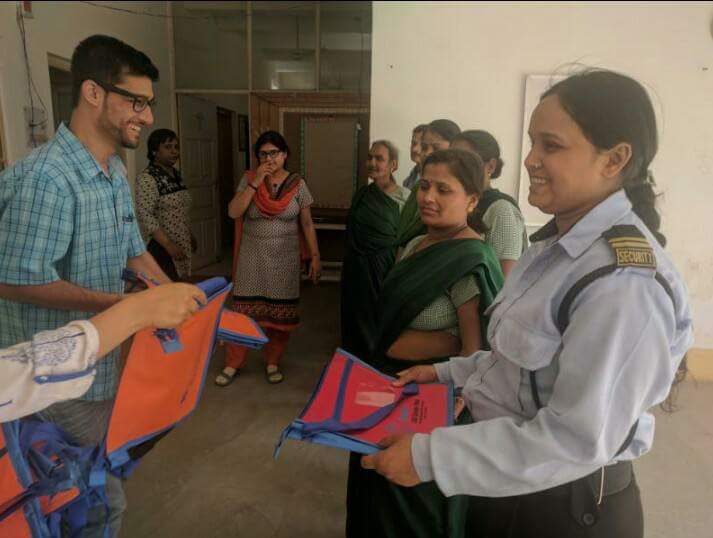 We(JBA Alumni) enjoyed real quality time spent with Aamar school ragpicker children of migrant labourers.
Mini project 'Mera school ka basta' was carried out.
Following activities were conducted:
1. Orientation about school bag including it's use and maintenance.
2. Vocabulary development by learning names and spelling of different parts of the bag.
3.Poem on 'Mera basta' along with distribution of handout of the poem to all the children.
4.Pre number concept of big and small.
5.Understanding about bag's dimensions.
6.Making and decorating the namecards for their respective bag.
7.Distribution of school bags & new shorts to the childrens donated by alumni.
A fruitful day enjoyed with Aamar School students.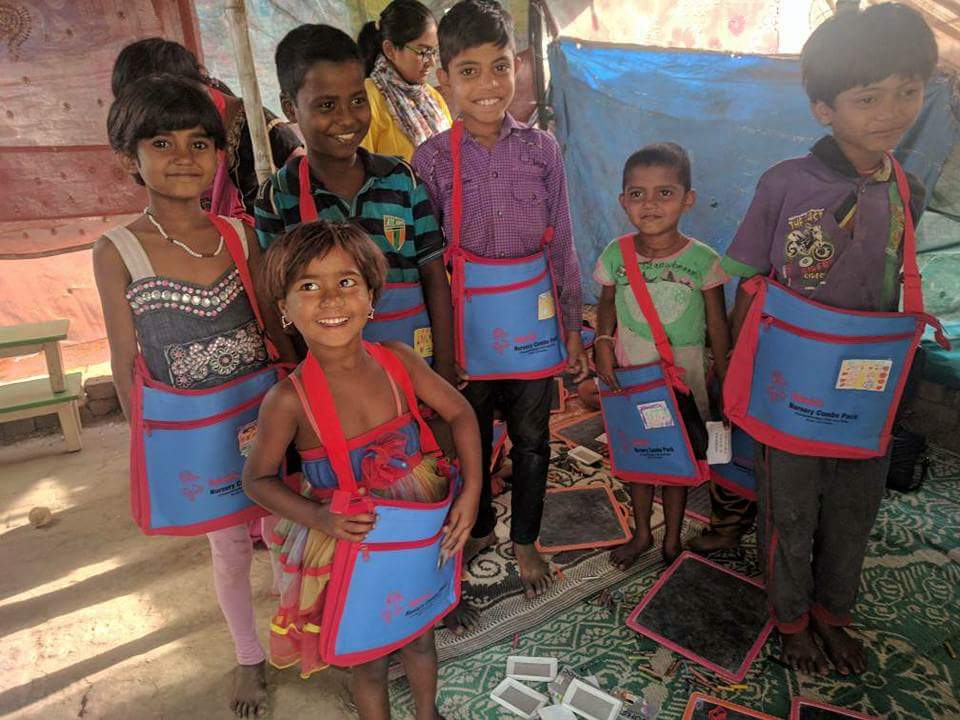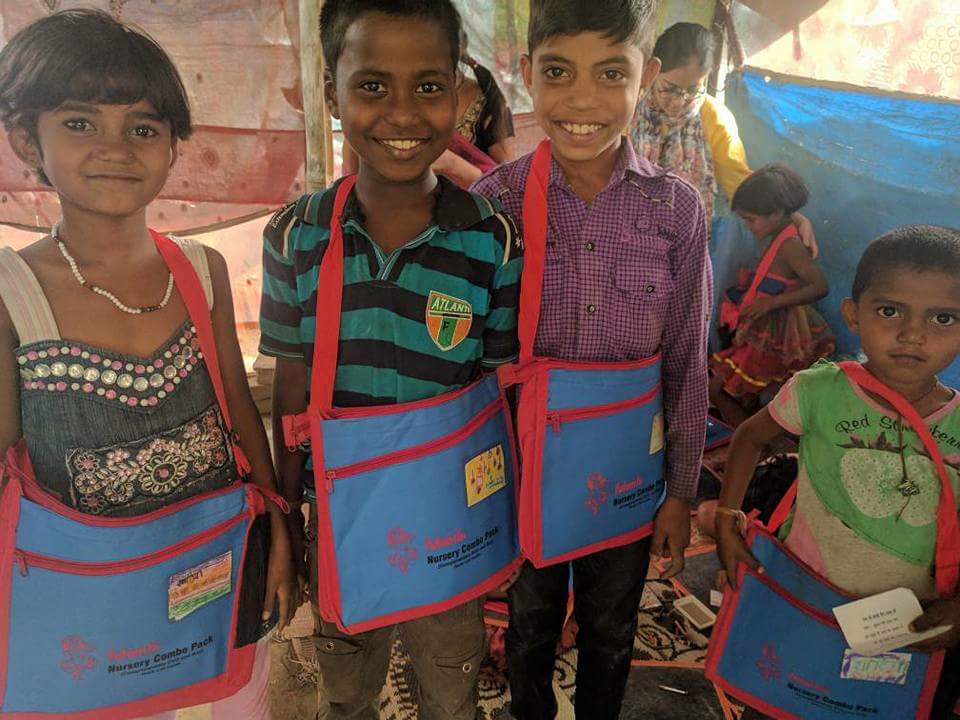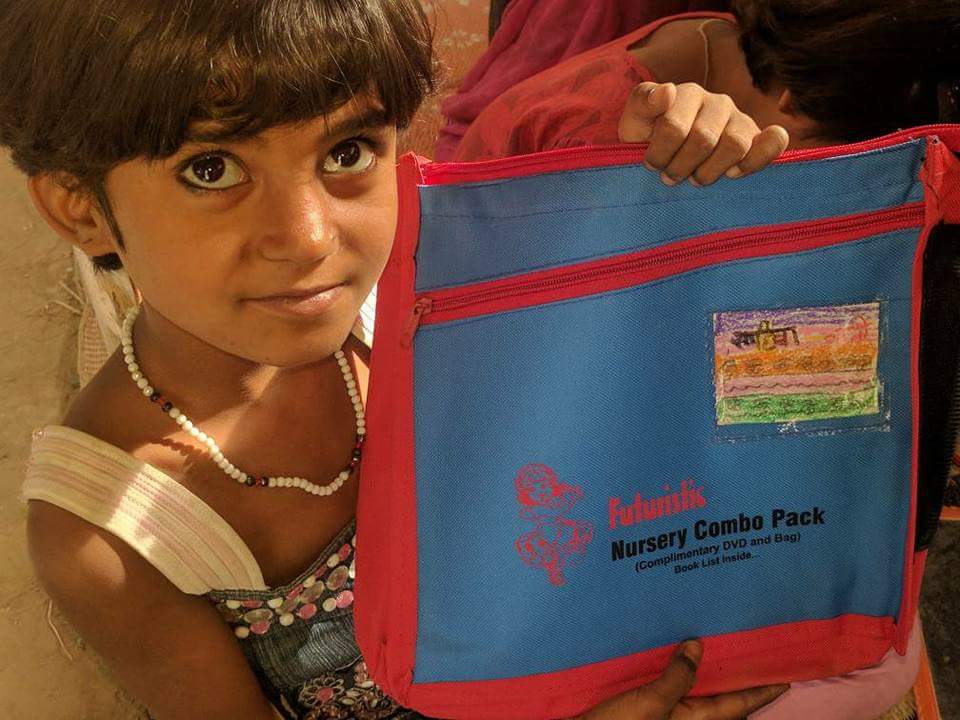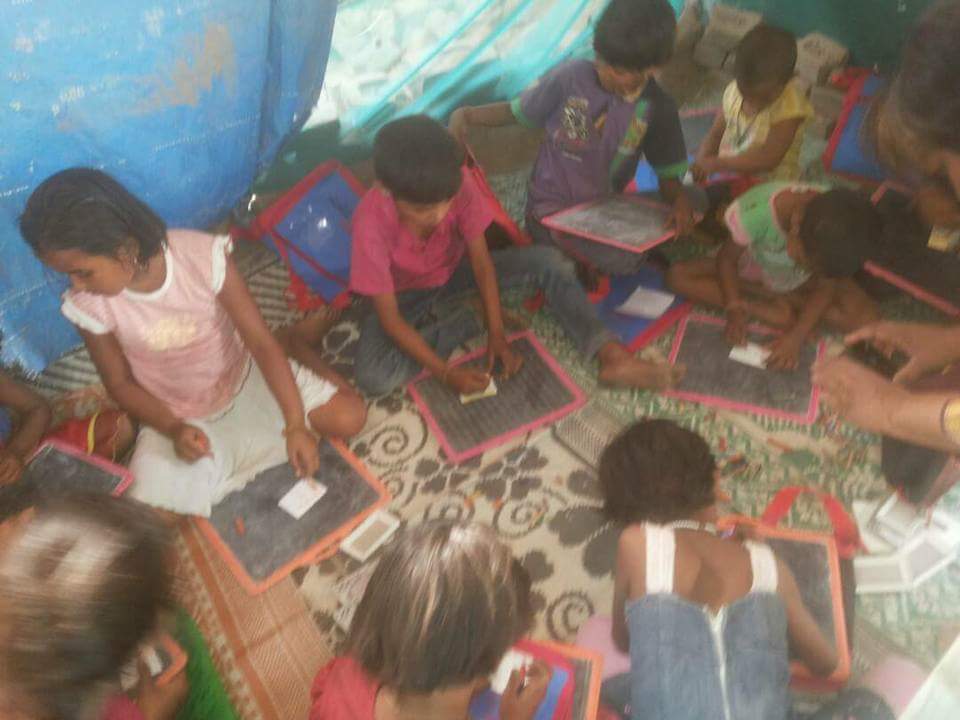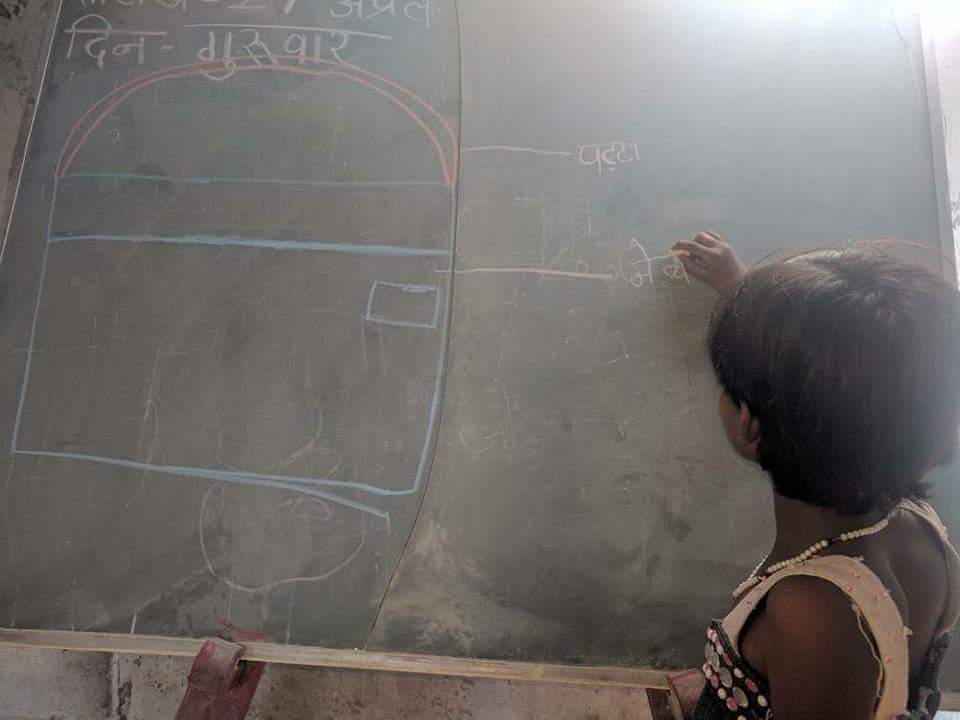 JBA Alumni spent a memorable day with Aamar school ragpicker children yesterday.
An activity session on 'Nadi' was conducted at Guptarghat.
Following activities were conducted:
1.They went on nature walk from Company garden to Guptarghat and observed activities of people,vendors,shacks,flora, fauna,infrastructure,dustbins, etc.
2.Discussed their observations and learnt about different aspects of river and role of Saryu river in our life.
3. Interacted with a boatman and recited river based poems.
4.They enjoyed boating and collected different things found on the river bank .
5.Mathematical estimation activity was conducted in which they estimated weight of dry sand, with water in it and the weight of water in the sand.
6..Science observation activity was done in which they observed river and sand with magnifying glasses.
7.River based team building game 'Passing the sand' and game on alertness and agility 'Nadi - kinara were played.
8. Sand structures were made group wise in which they made company garden and house ,fields,sitting areas etc. in mountains etc.
Each group gave presentation about their creation thereafter.
9. They boated back to Guptarghat singing,waving and clapping with joy and played on swings at Company garden.
10. Pakodi, chutney were enjoyed before packing up.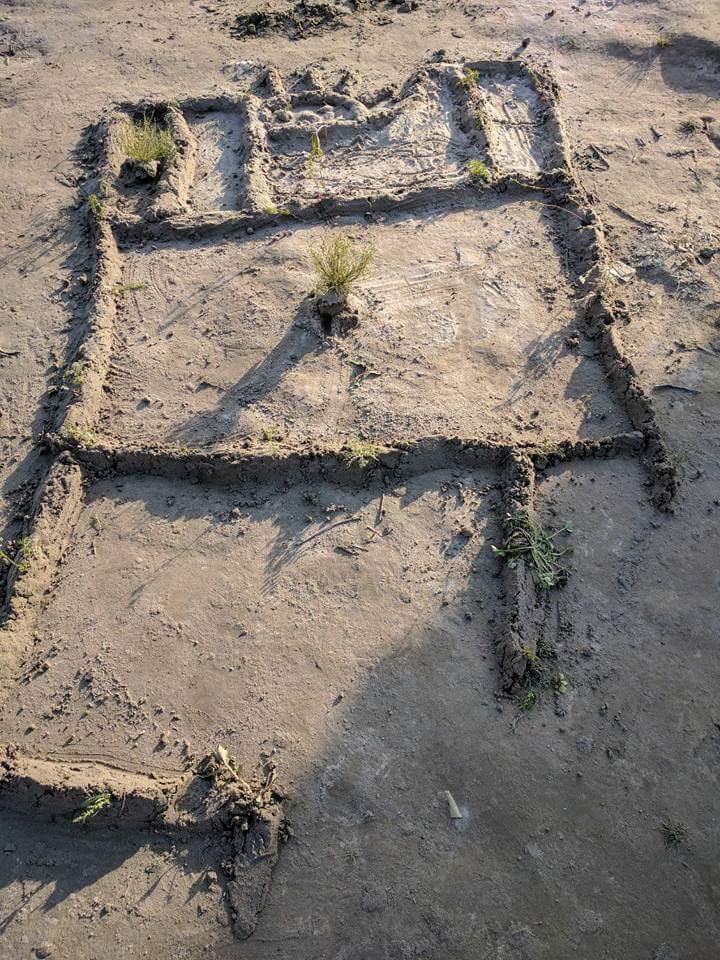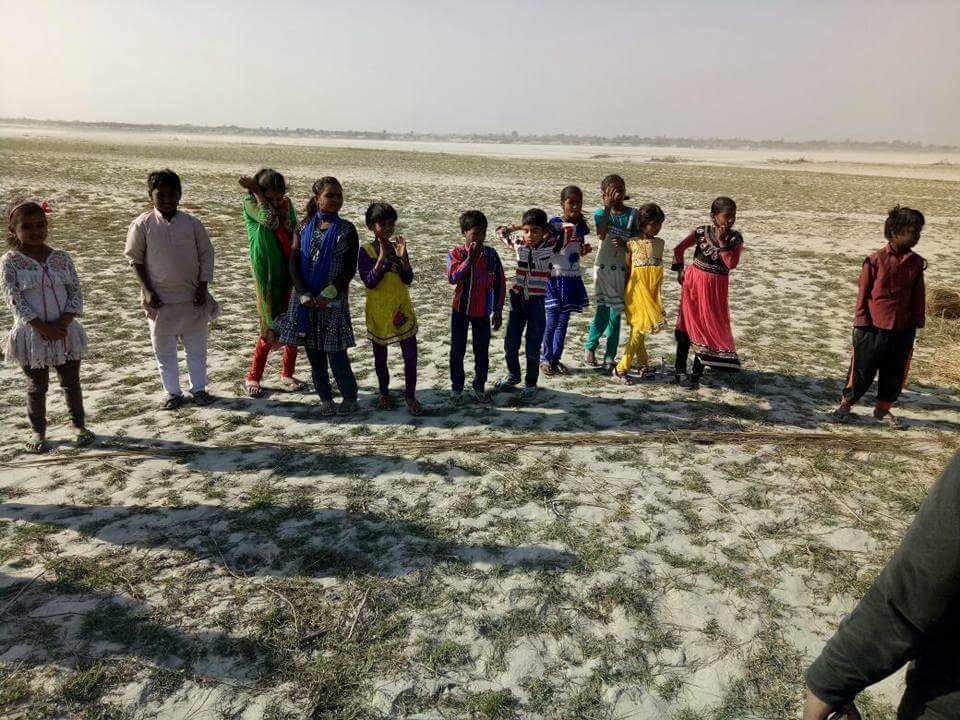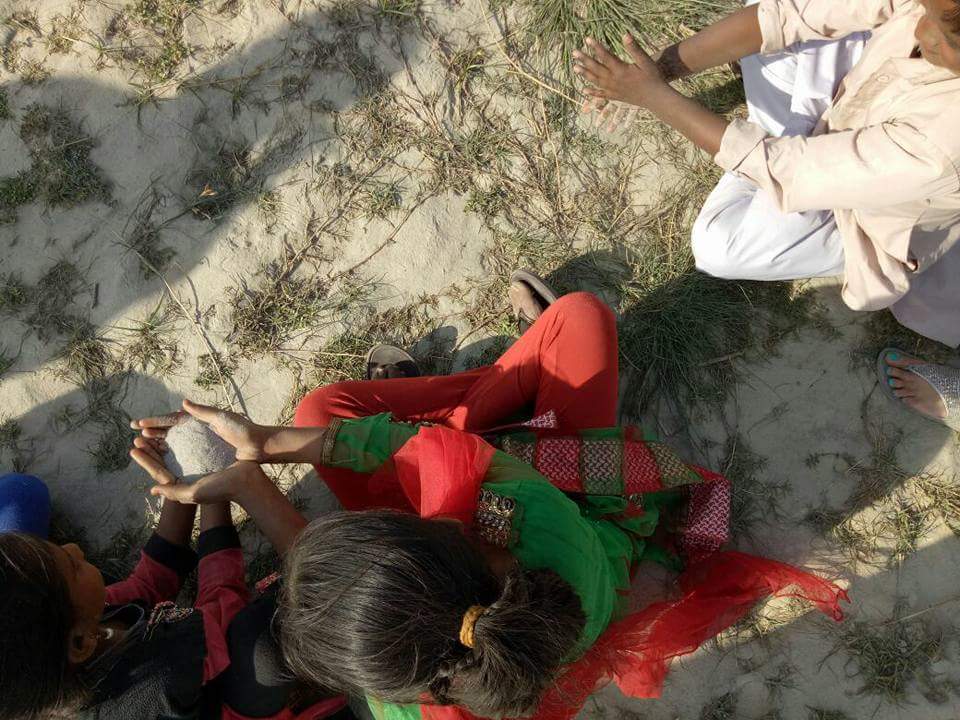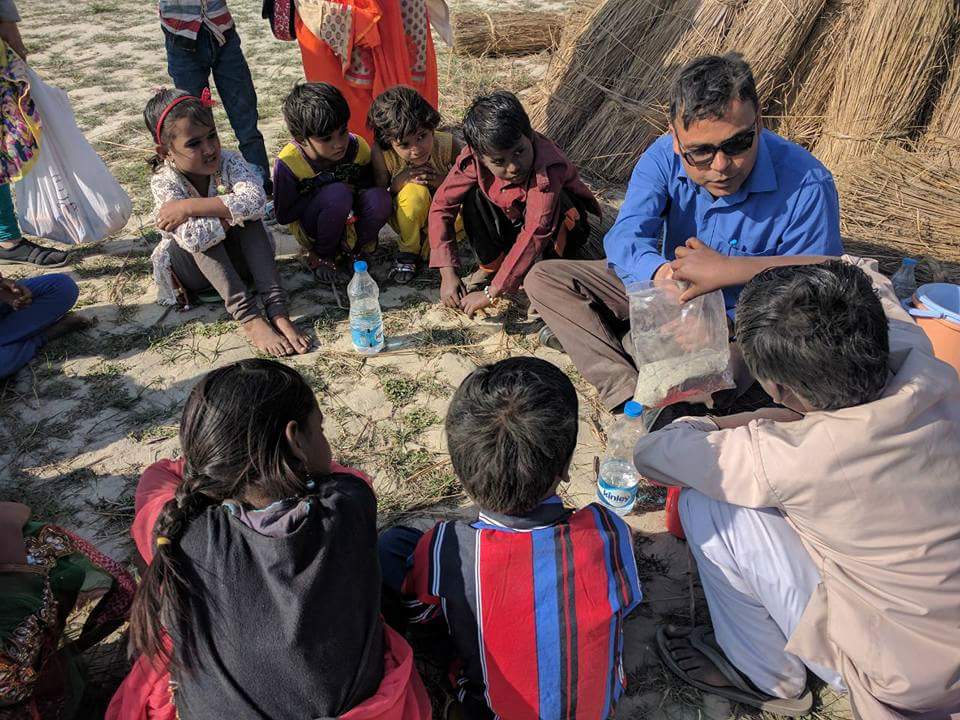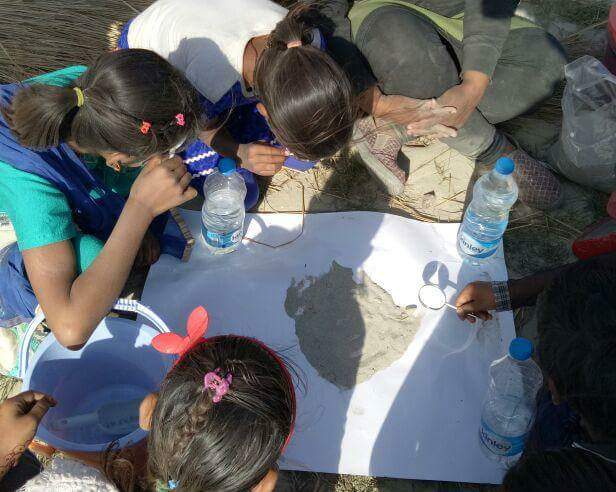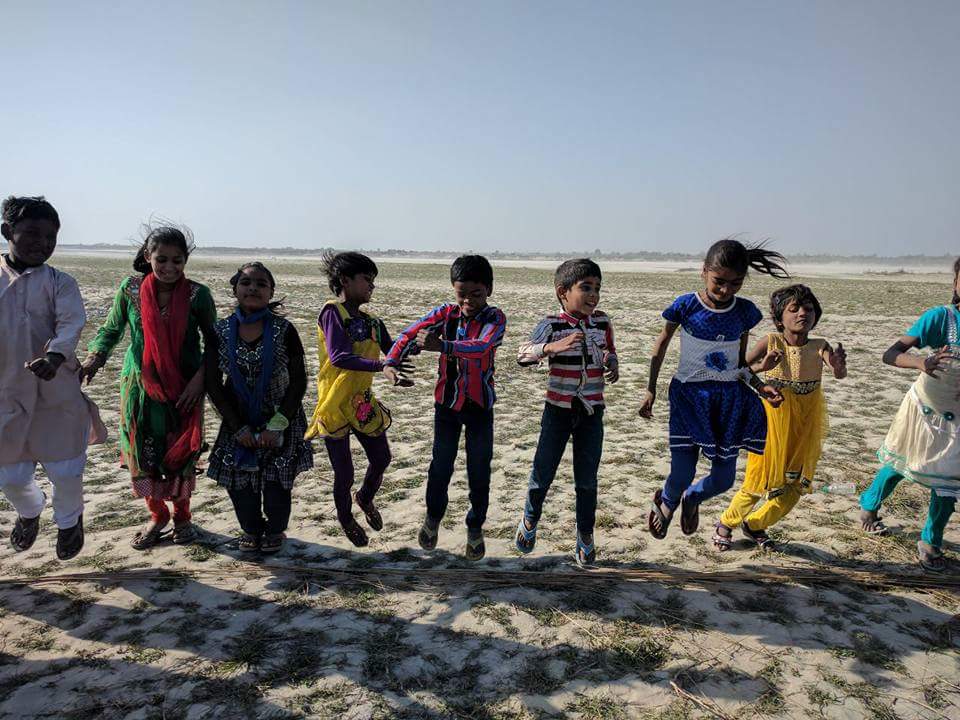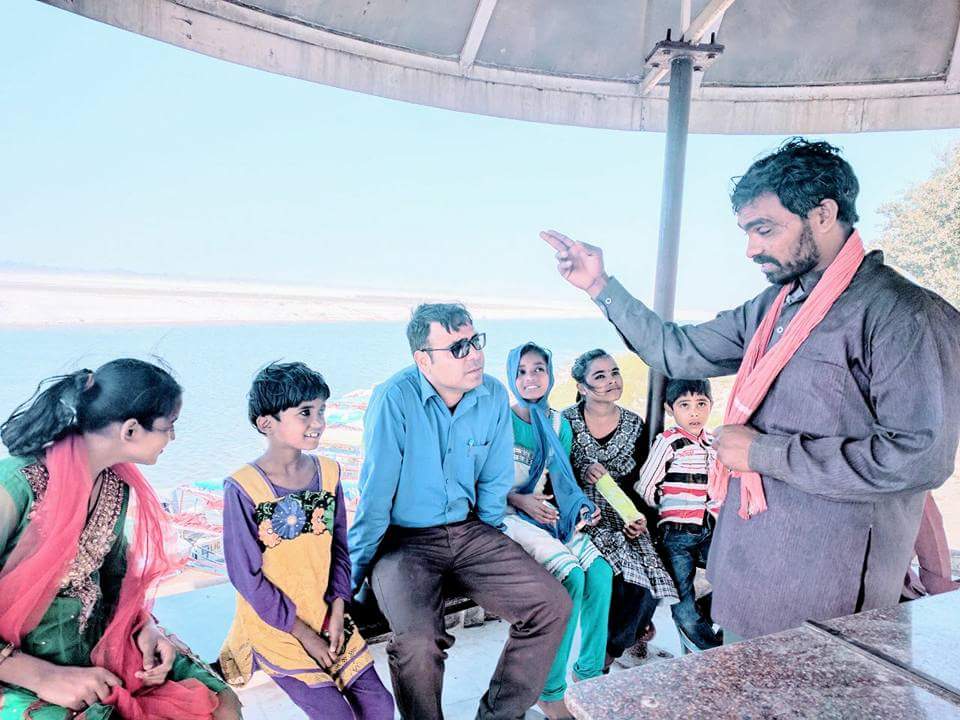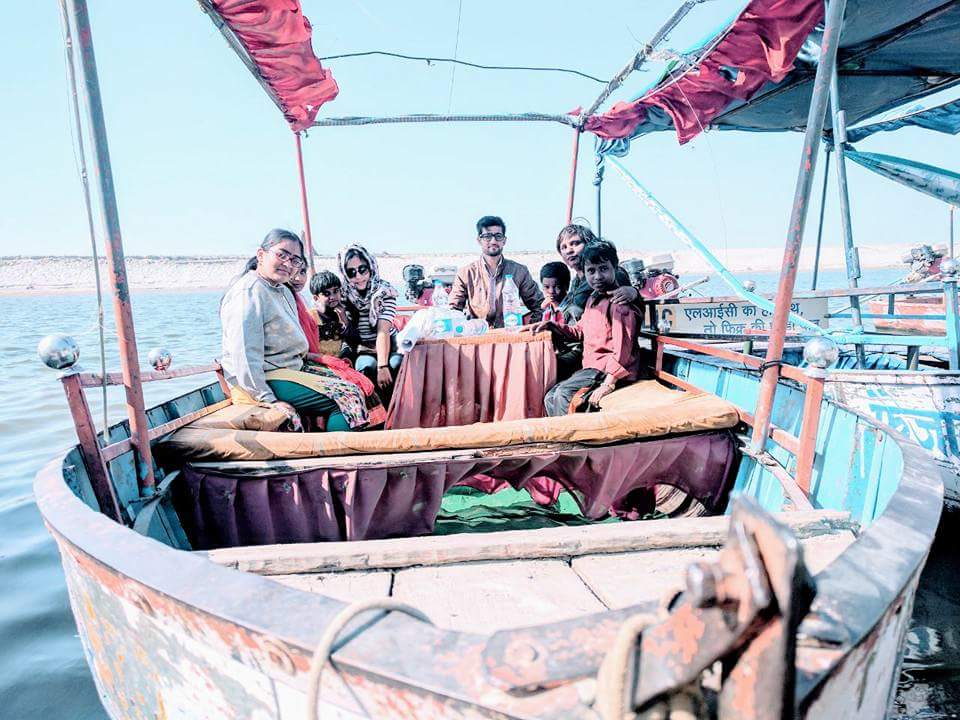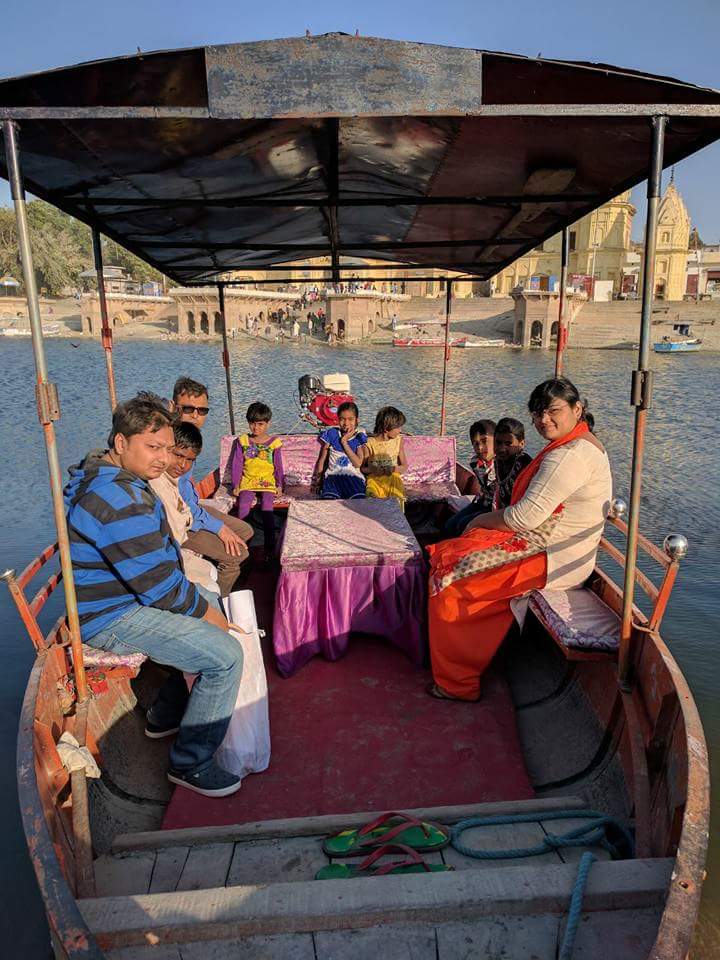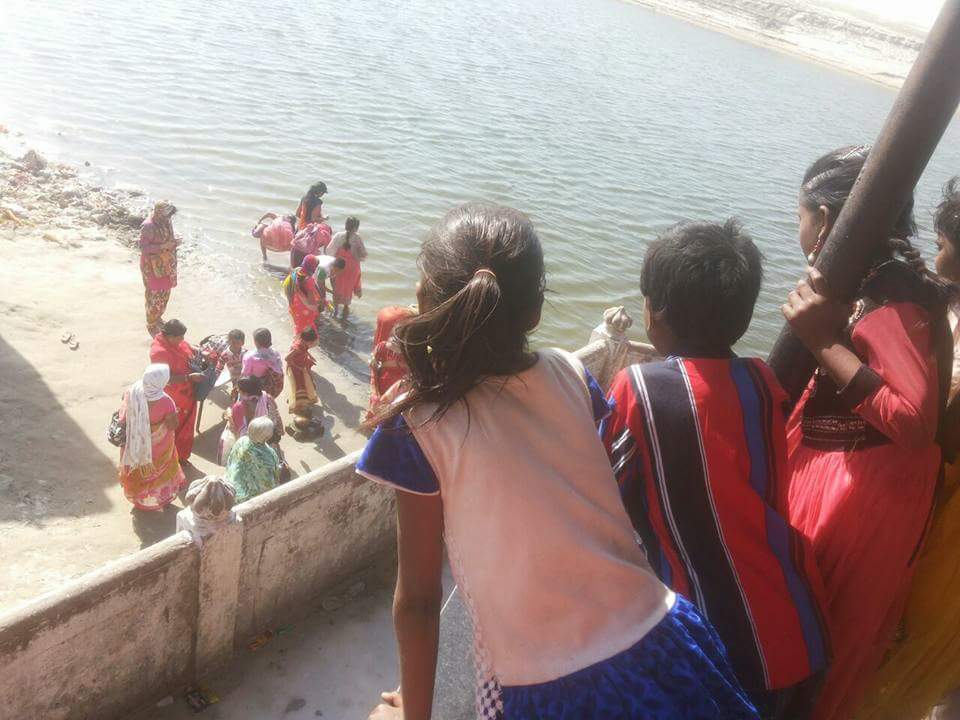 Alumni have enjoyed cricket, tennis and different sports.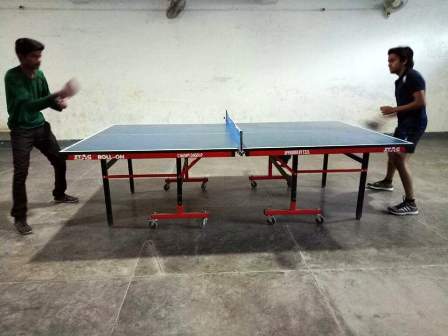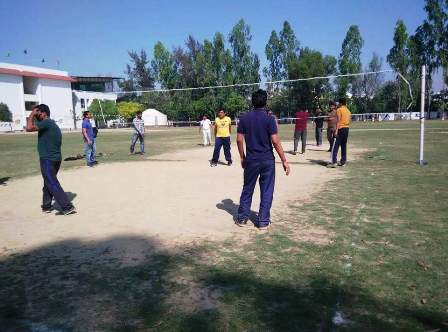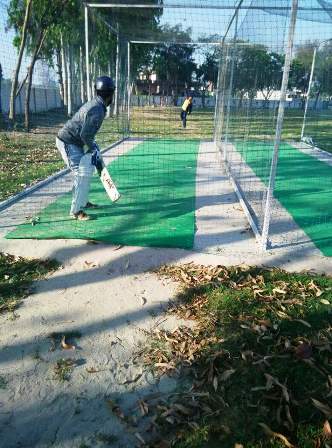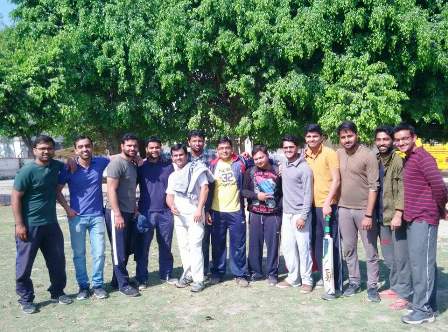 Alumni had a nice n meaningful day on Sunday!
They went for morning walk from Old Avantika hotel to Military temple and back to savour the fresh morning air and enjoy benefits of a healthy lifestyle.
This was followed by visiting the neglected Shaheed public park. It was pathetic to see it's unkempt state.
Alumni cleaned up the litters, cleared a big flower bed, did plantation, made and hung two simple bird feeders(Though, monkeys came before the birds!!)
This was done as the first phase of their work to bring life to this park for the Faizabad people. More steps shall be taken shortly.
Thanks alumni for being aware and contributing citizens !!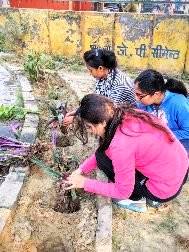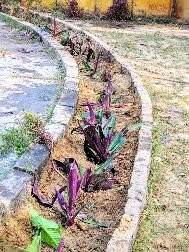 Drip irrigation is a form of irrigation that saves water and fertilizer by allowing water to drip slowly to the roots of many different plants, either onto the soil surface or directly onto the root zone.
If done, through waste plastic bottles, jars etc. money wastage and waste generation can also be contained along with other benefits.
To make Jingle Bell School children learn and practise this water conservation method, alumni converted a large area of the school into a bottle drip irrigation area with bottle structures in the flowerbeds, around plants and trees.
This was done through collection of bottes, learning about technicalities from Pani Sansthan , preparing the structures and finally placing them at JBS.
Yesterday, it was finally handed over to gardening group and Eco committee of JBS by alumni.
Children took round of area which was followed by presentation about the same by alumni
.Mr Ambarish Singh of Pani Sansthan further explained about it.
Thanks to all the volunteers for the spirit of service, concern for the environment and the hard work put in.
Proud of you!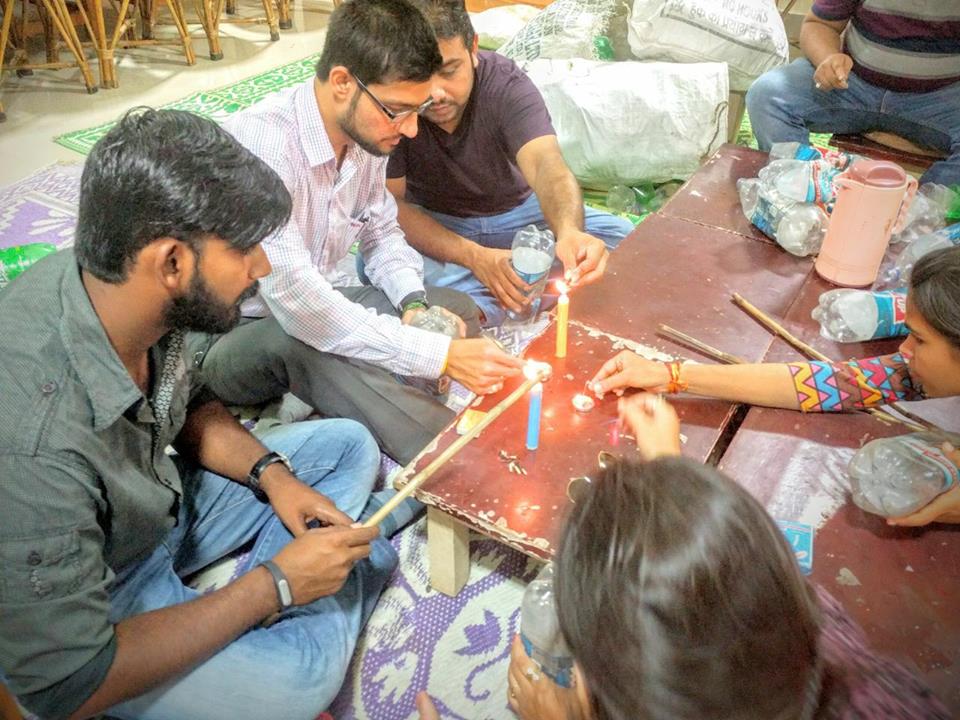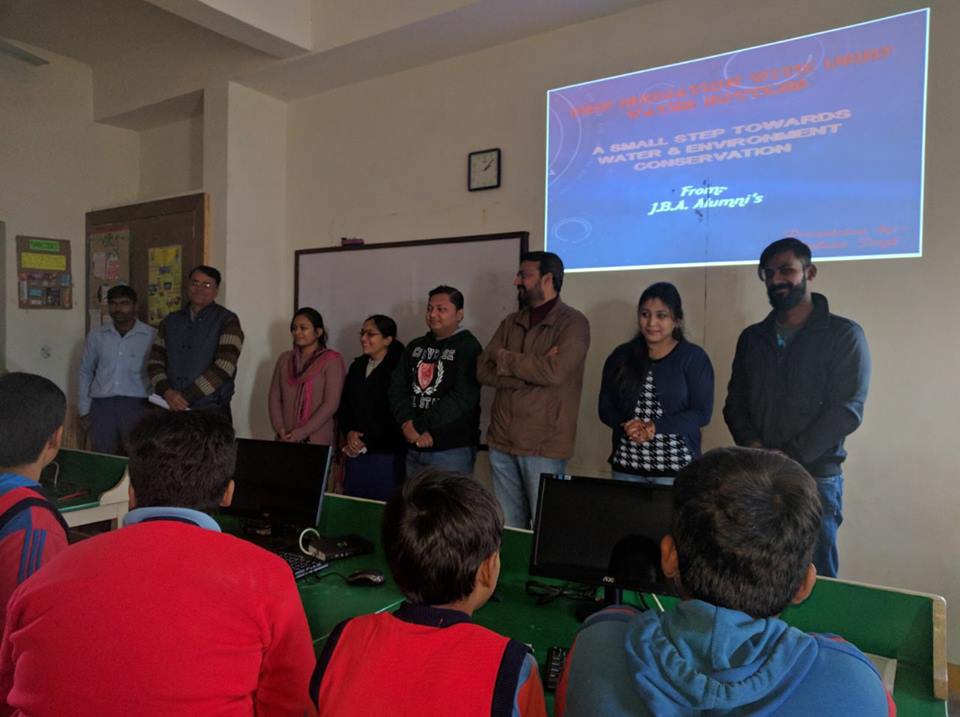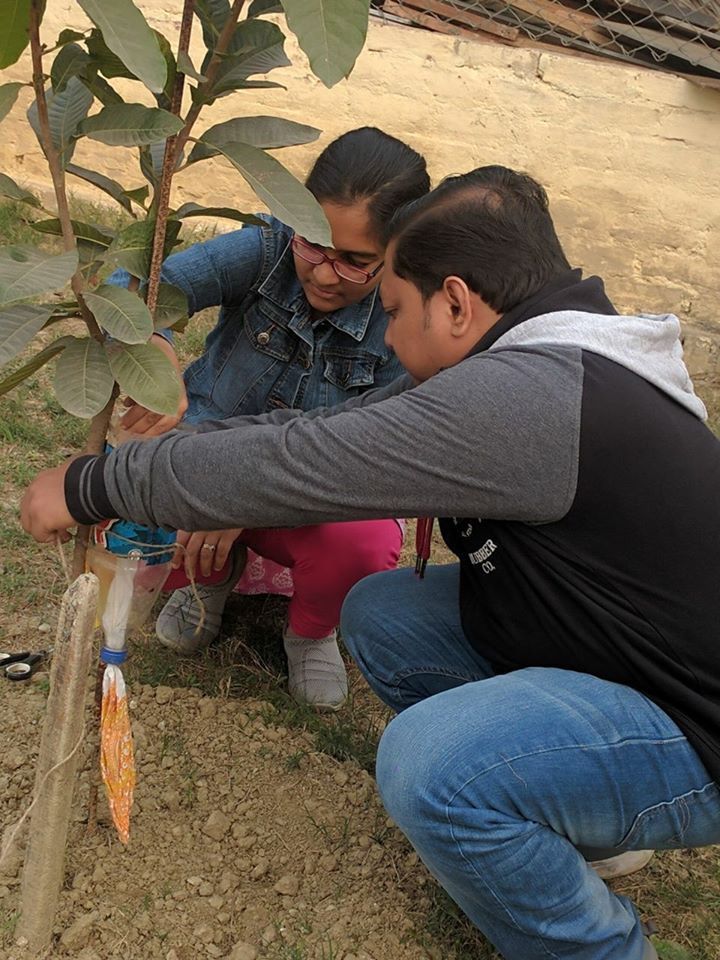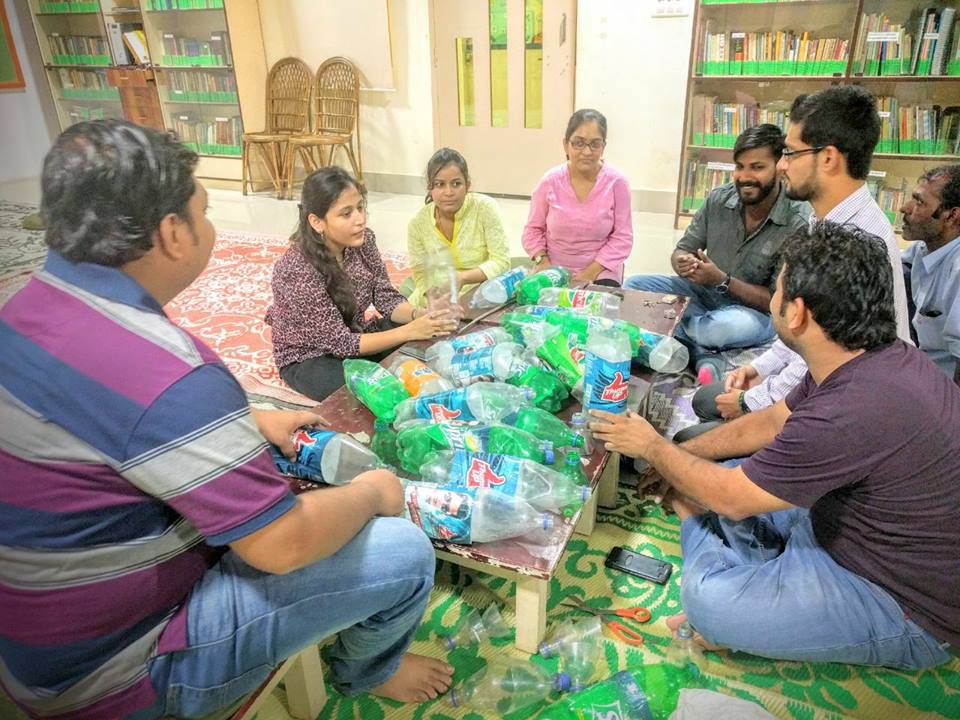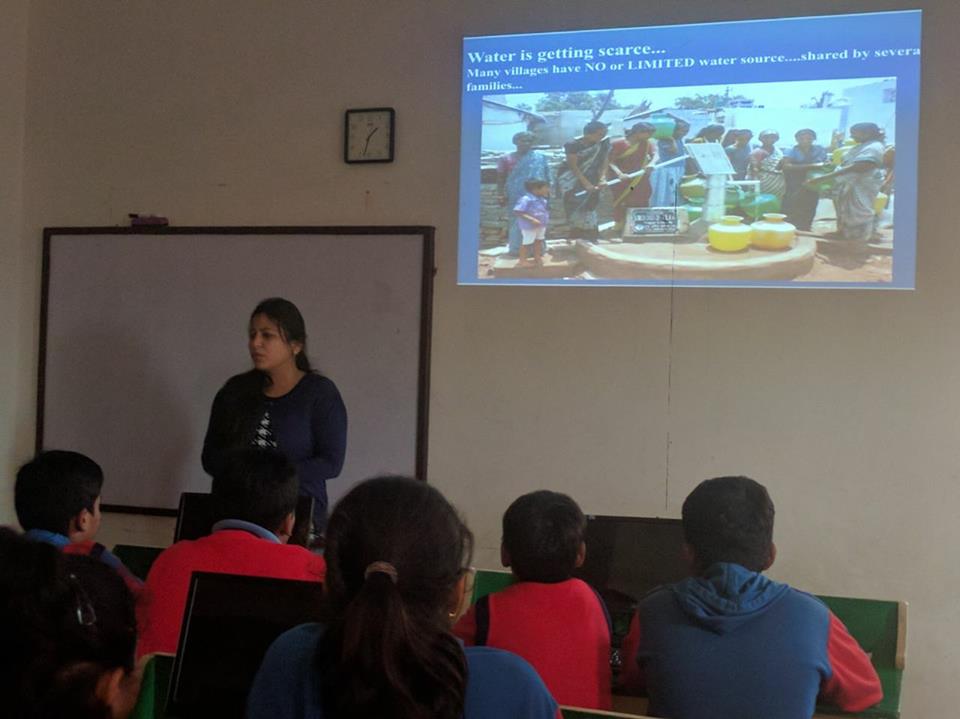 'NEKI KI DEEWAR' was opened for public today by JBA alumni club.
The objective of the wall is to cut down on excessive consumerism and waste generation by giving the items which you don't need/not interested anymore to the other fellow citizens especially poor and needy ones .It develops healthy citizen relationship where everyone is helped mutually without burning a hole in their pocket.
Items like old/new items, toys, utencils, blankets, wollens etc. are put up on this wall and anybody can take from there .
The JBA alumni club collected the same from some Jingle Bell School childrens and donated themselves too. They were further segregated by them for selecting the right things for the wall.
The permission for the wall was taken,then painted and today was opened for public by alumni.
Now anyone can put things there for donation or take what they like.
It is located at "SAI TEMPLE" opposite Government Girls Inter College(GGIC),Faizabad.
Thanks to all the dear alumni for your effort and spirit of service.
Kudos!
LET'S SHARE THIS,SO THAT WE CAN HAVE MANY MORE SUCH WALLS.IT'S FOR HUMANITY.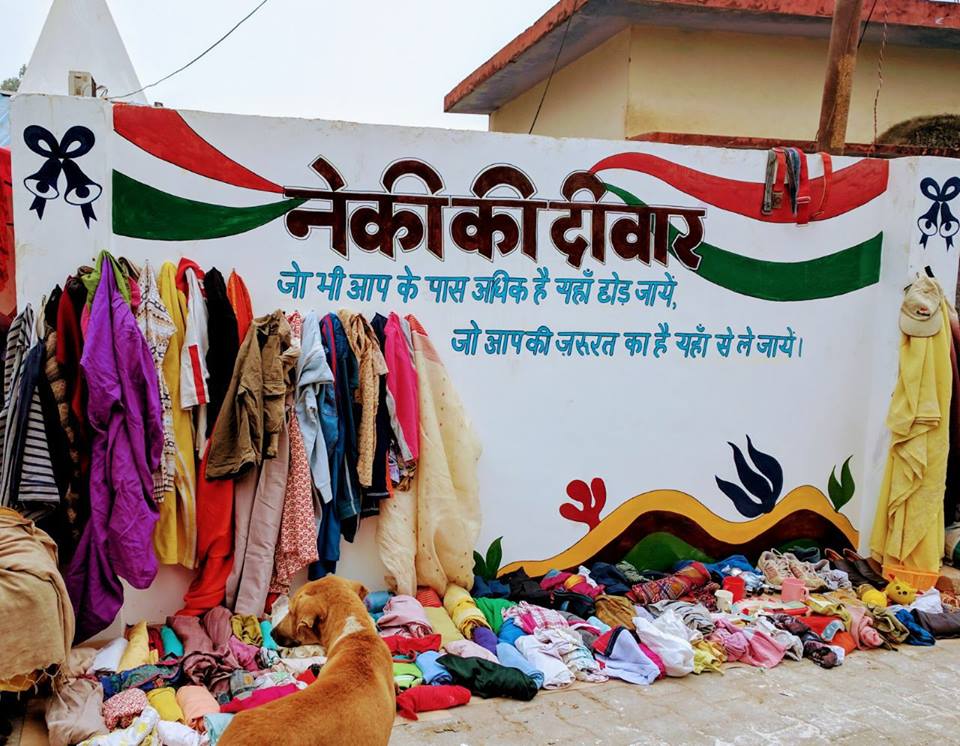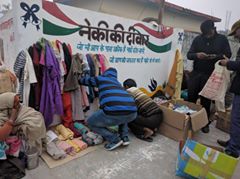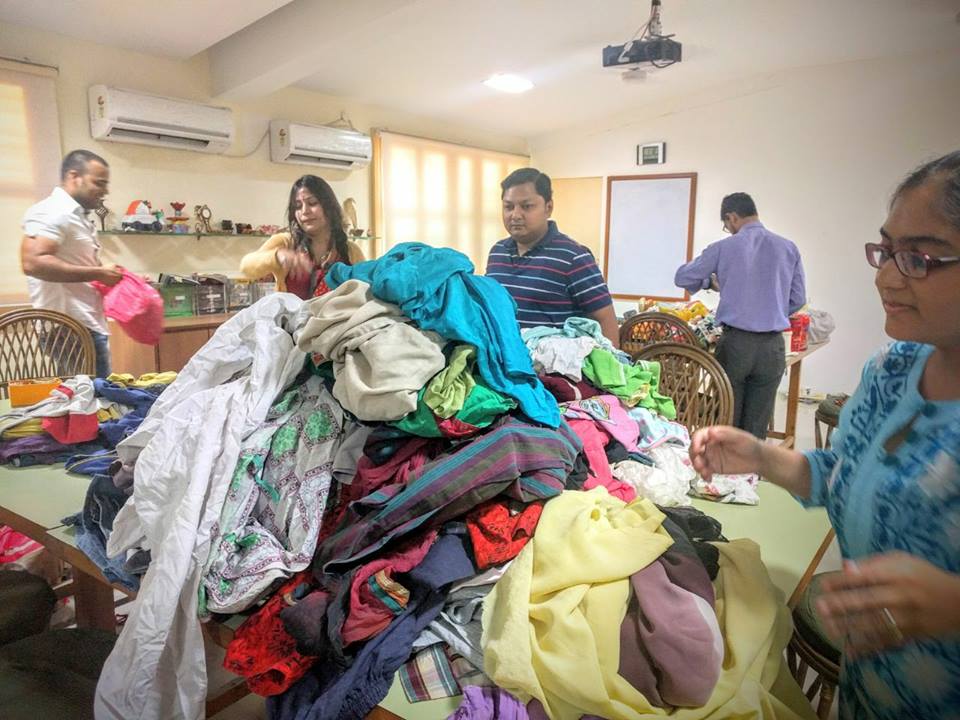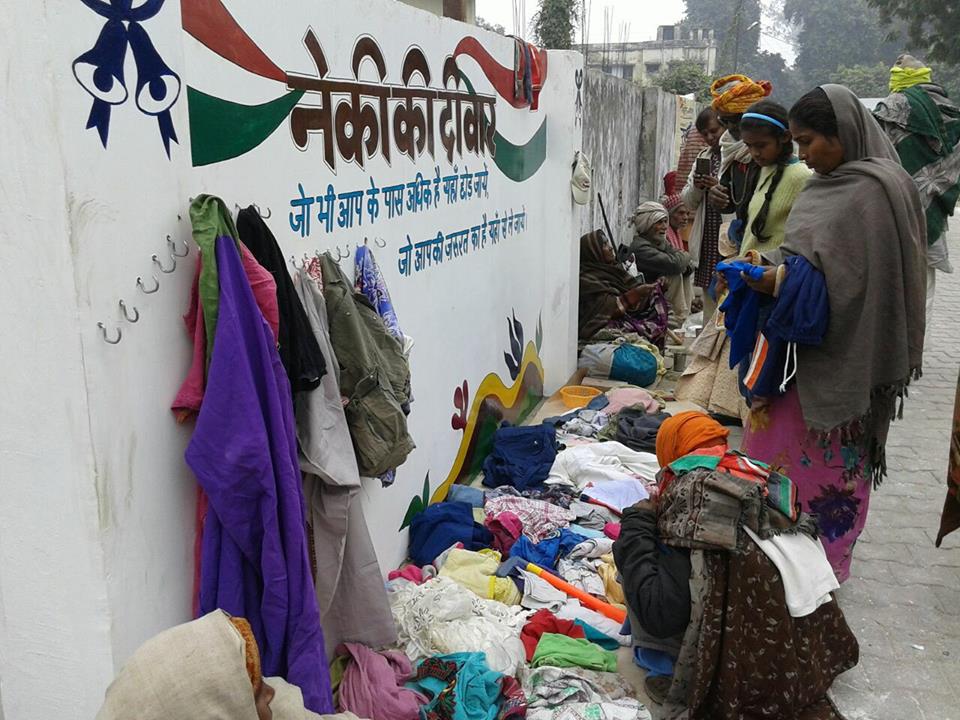 A fun filled Sunday...
We(JBA Alumni) assembled at St.Mary's school and thereafter proceeded to Guptarghat.
Did boating and enjoyed cooking Maggi,chutney aloo and enjoyed with pakori,soft drink, biscuits and tea.
Chit chat and games like dumb charades made the picnic more memorable and a great bonding experience.
Looking forward to many more such days!!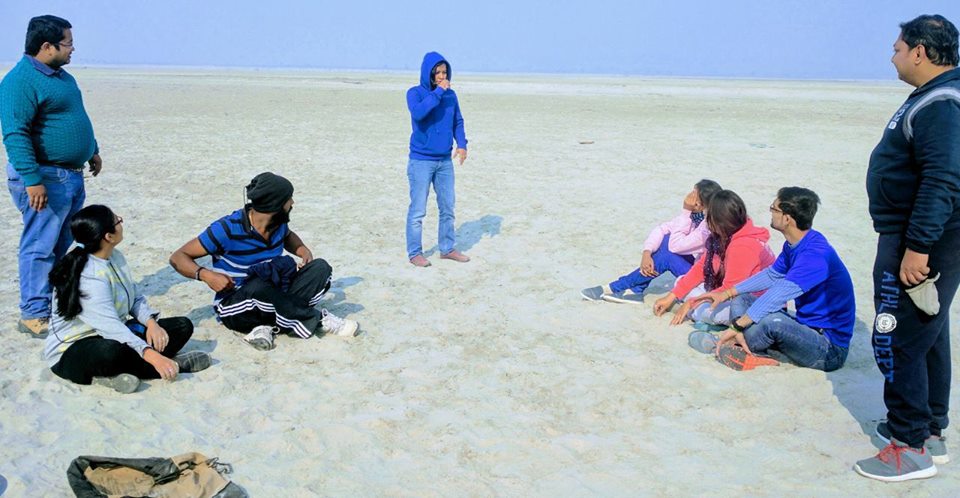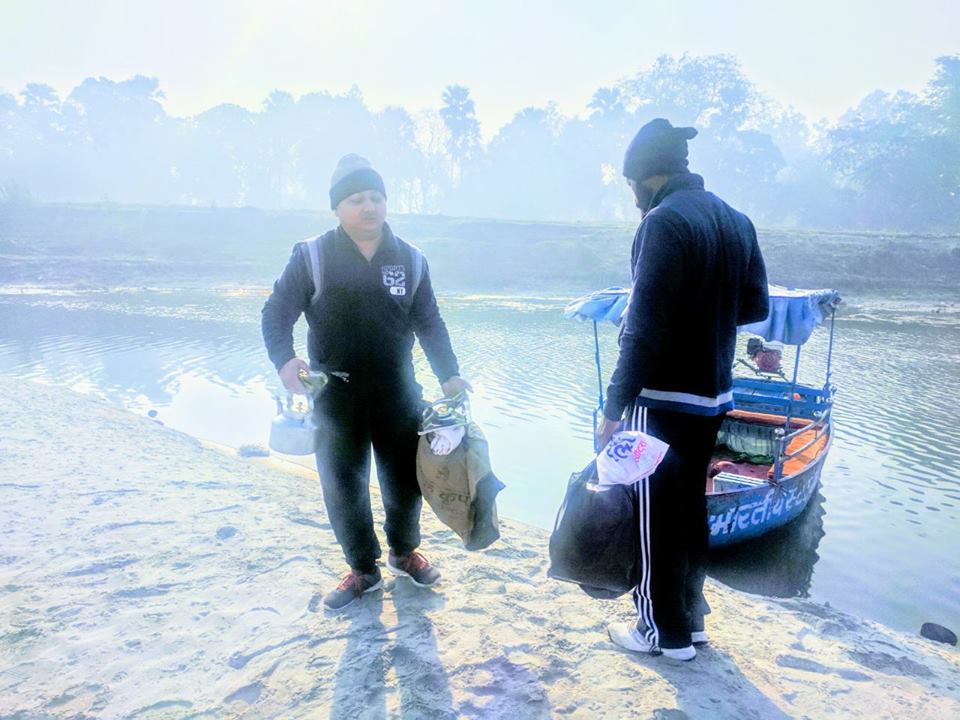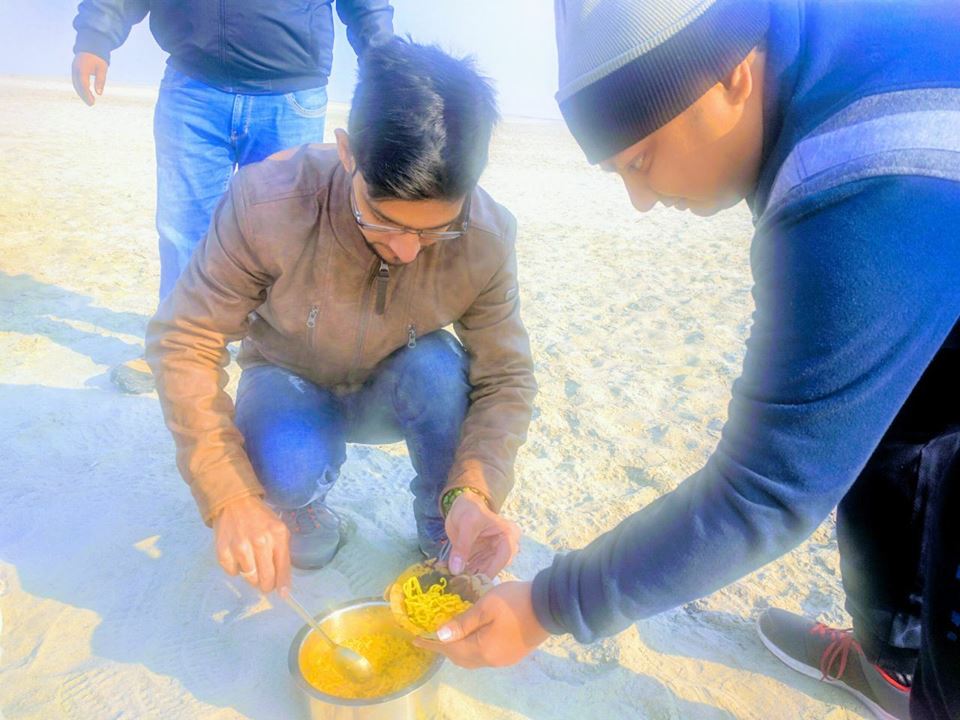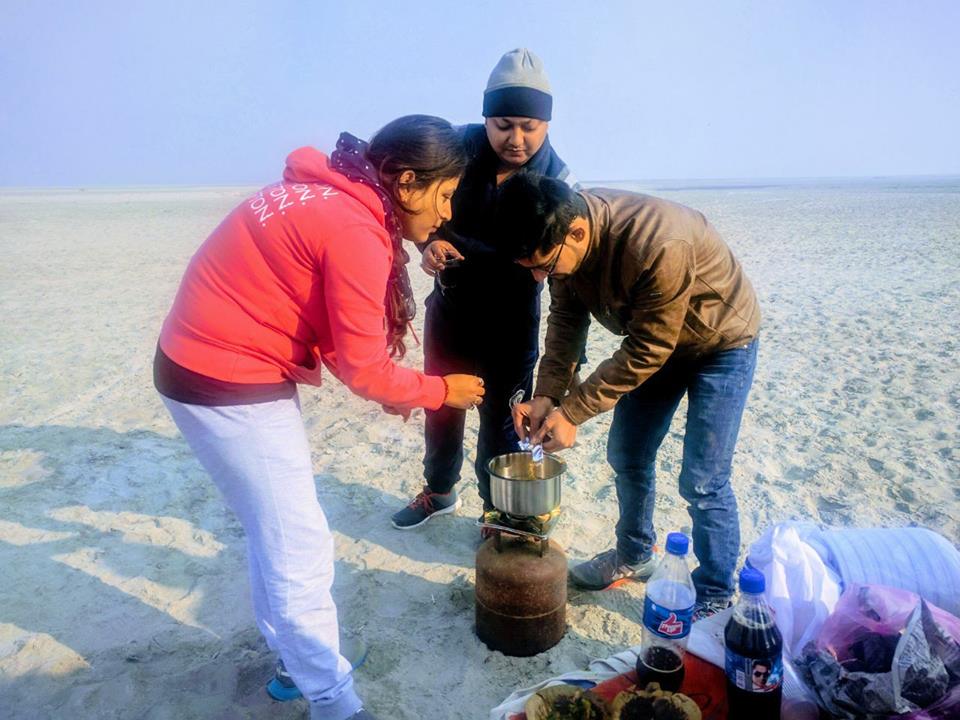 Alumni had a great time celebrating 'Green Diwali' with Aamar school kids.
Following activities were conducted:
1. Discussion about story behind Diwali, values attached to it and green diwali way of celebrating this festival.
2.Making decorative candles from old poster colour bottles,beads,jelly wax etc.
3.Learning and reciting poem on Diwali.Copy of poem given to all the children.
4.Distribution of donated surplus/waste generated on diwali cleaning by alumni and some JBS students.This shall be sold by these ragpicker children who in turn shall sell them,earn from it and celebrate diwali in a better way.
5.Distribution of some dry snacks and amla burfis to celebrate this beautiful festival.
Thanks for the effort and empathizing with bright and affectionate children of Aamar school.Proud of you all!
Happy green diwali !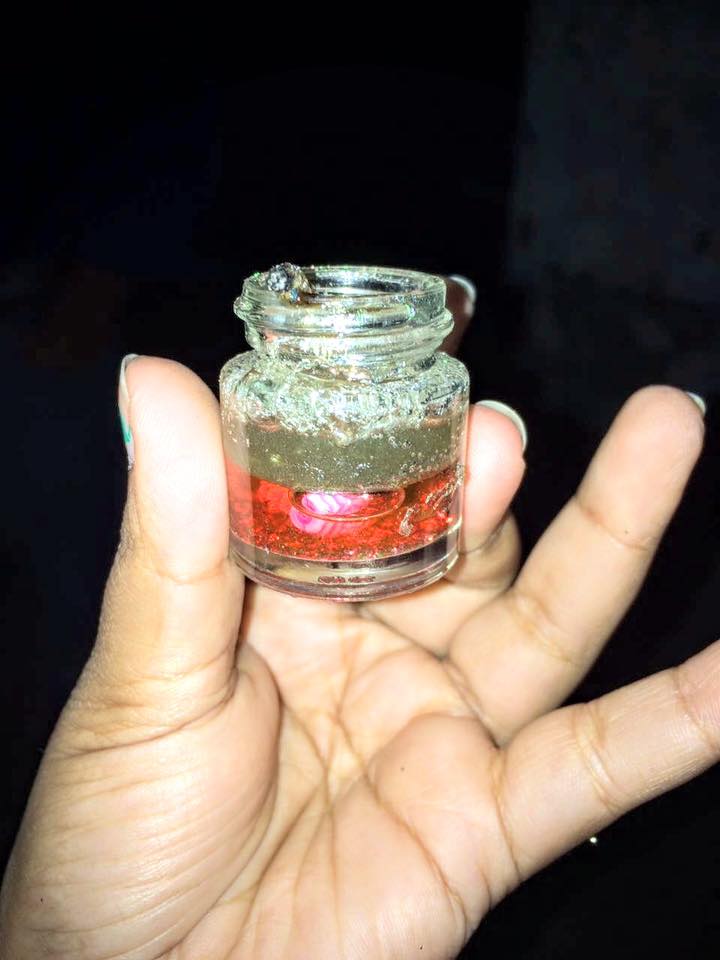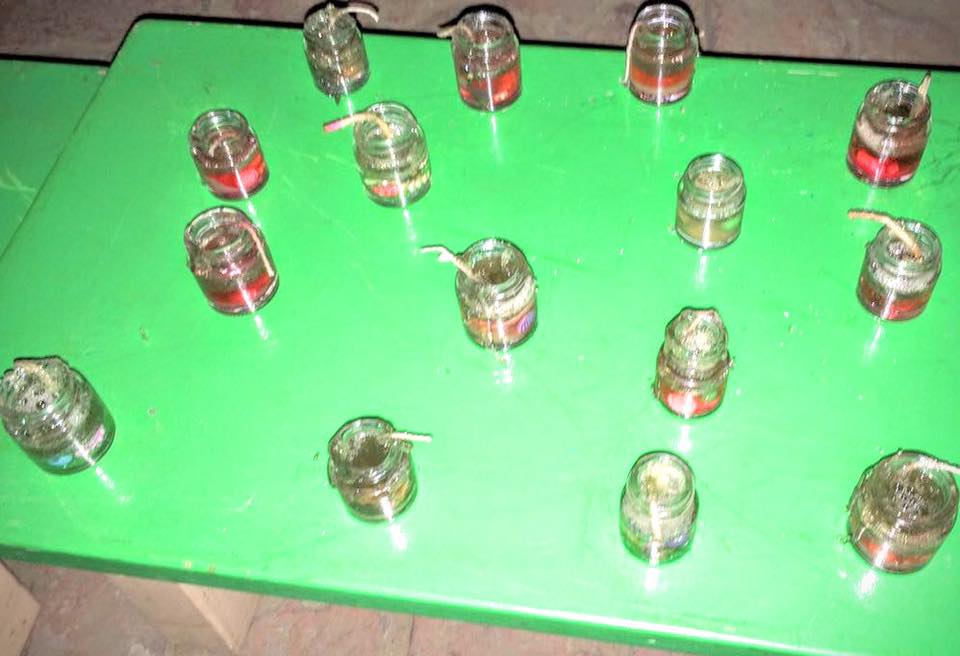 Alumni had a lovely time with Aamar school ragpicker children of migrant labourers invited to attend the Bal mela at Jingle Bell School. These children were brought from their school and taken around by alumni to visit and help them in experiencing the activities of the stalls and rides The children simply loved a free of cost experience of foodstalls, joy rides, games stalls, goodies like bangles ,tiaras, eyemasks etc. Visit to JBS had to end with tyre playground time which they simple loved this time too. Biscuits were also distributed by JBS Principal to them which they relished. Thanks alumni especially Rajat, Pratyush and Vatsla for being so forthcoming and supportive.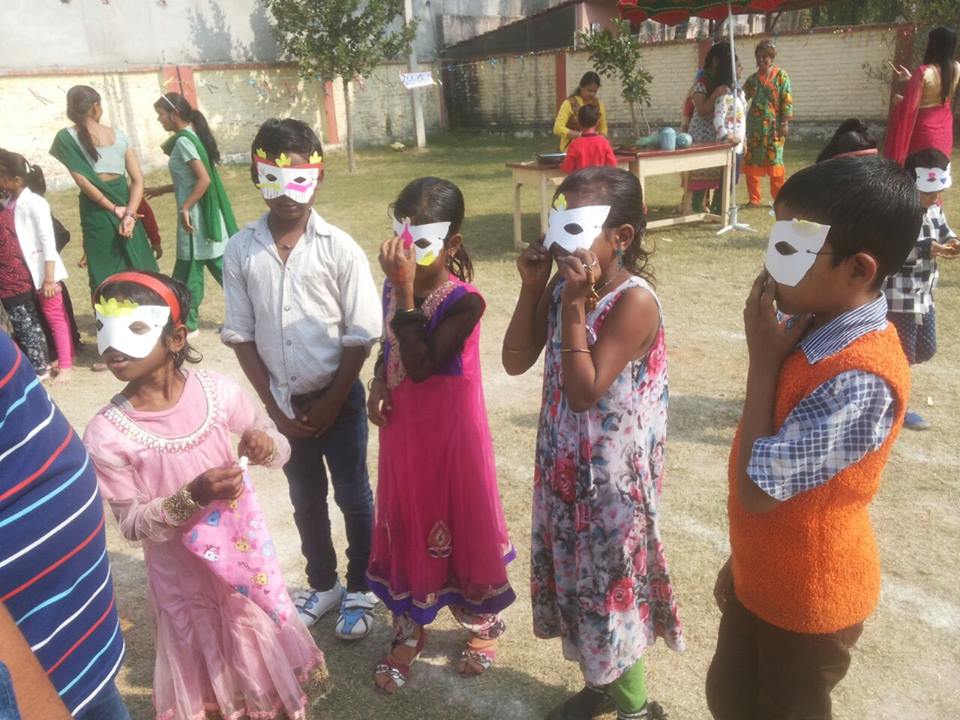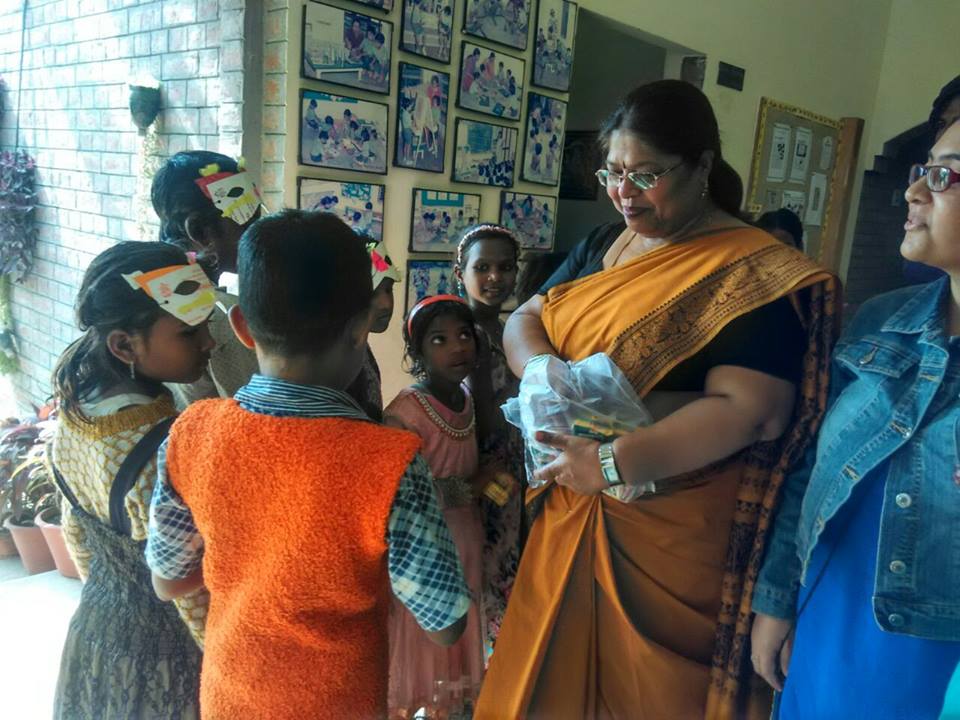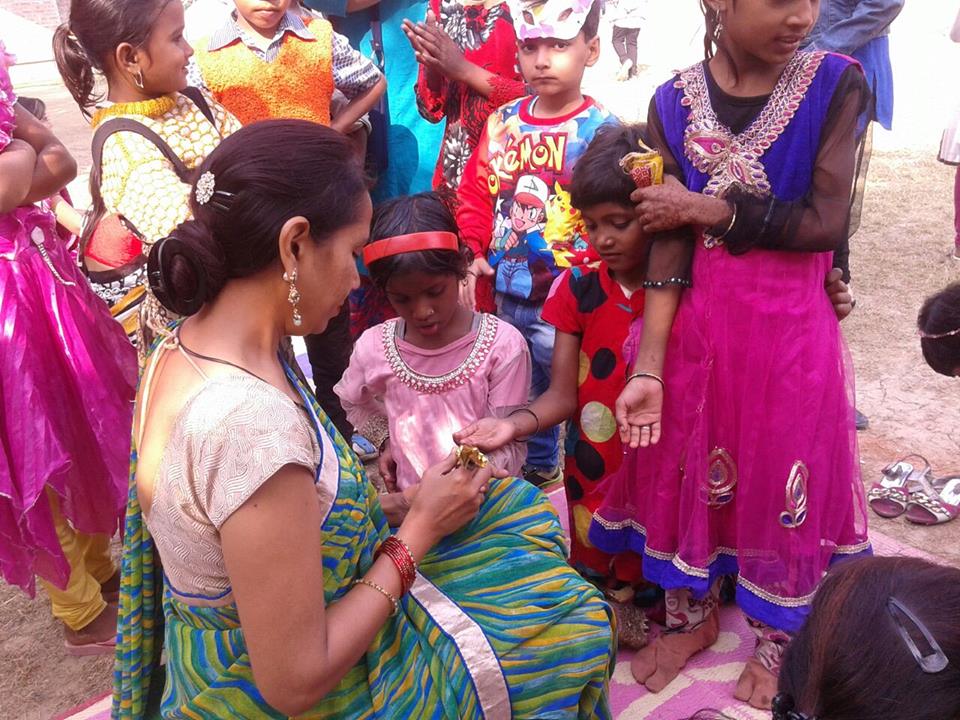 ​Alumni activity at Govt. model English medium school, Usru! Few of the alumnis along with a pack of some JBS students and teachers, went there and conducted some activities like 'Leaf Impression' and 'Leaf Collage' and plant based 'poems'.. Alumnis had a great time with them and children did a wonderful work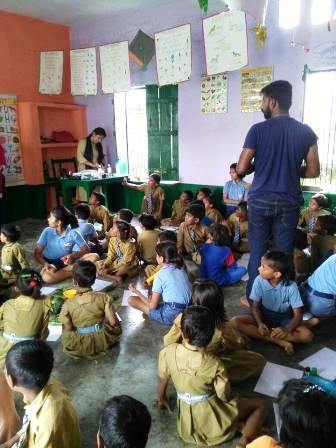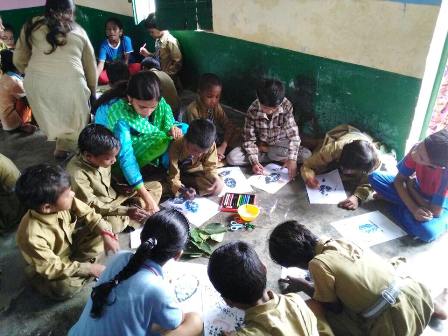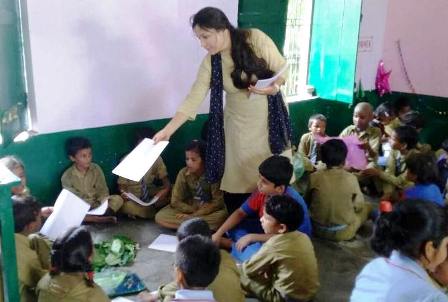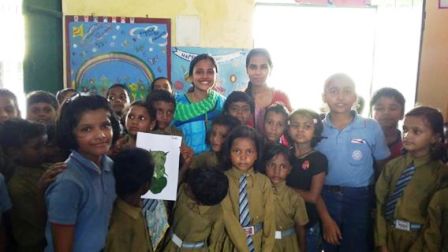 They were brought to JBNSS.Jungle book was screened for them...Followed by discussion on the film and visit to Manjula Ma'am's residence to see and learn more about real animals like rabbit,duck,hen,goat etc... After discussion,they drew and wrote about their favourite animal from Jungle book,field trip to Manjula Ma'am's house or any other one they like....Alumnis helped them in the process especially in writing the description of drawings by those who are still unable to write...They were given copy,pencil,eraser and crayons...followed by some refreshments..!
The finale of the programme was a visit to Jingle Bell school's tyre playground where they had a great time....this beautiful experience to cherish.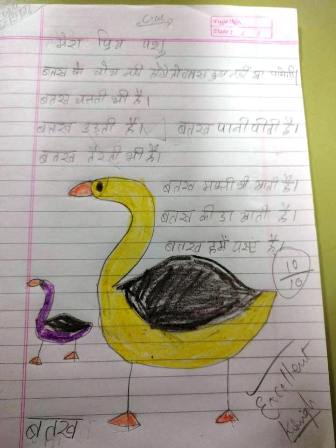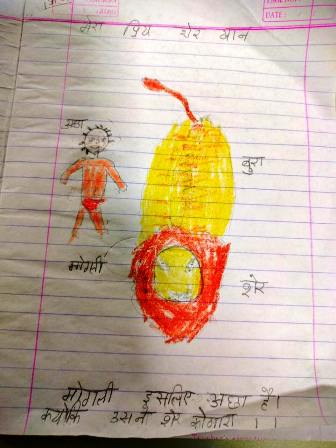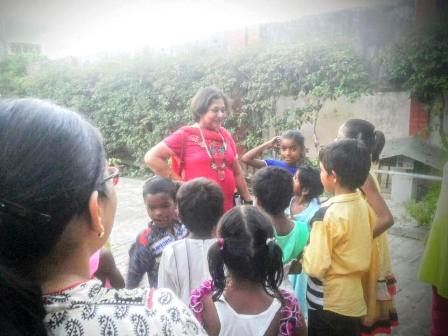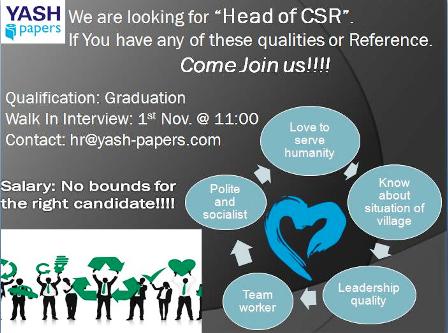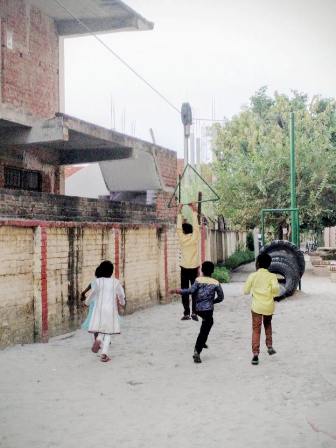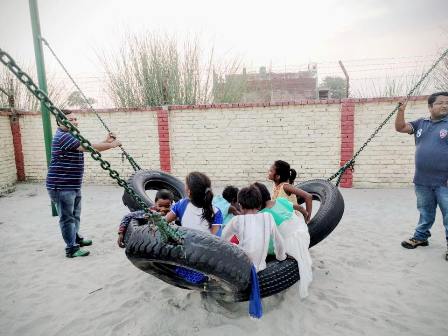 'Glimpses of Sunday walk to Gulab bari and cleaning of this heritage monument of Faizabad by picking up the litters in the compound. A small endeavour by alumnis to keep our monuments clean.'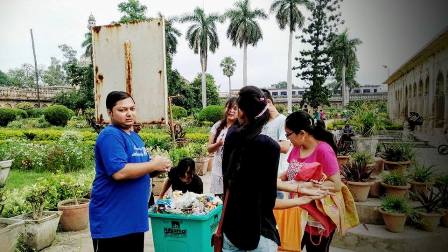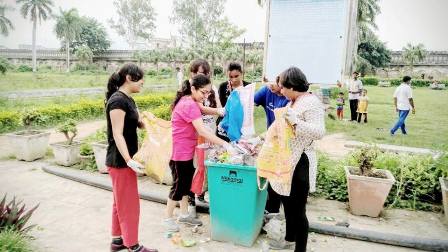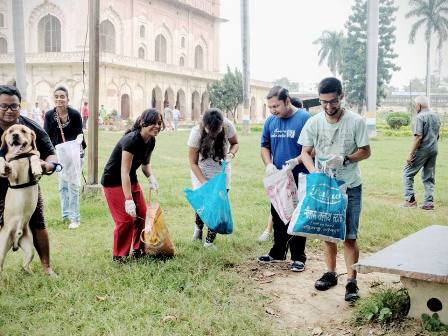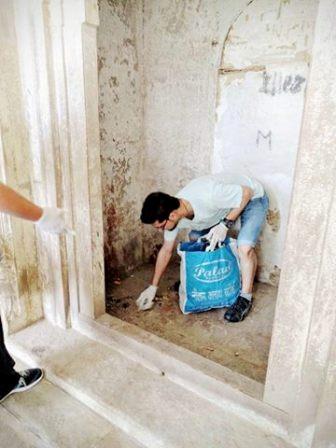 ​
It is such a pleasure to find JBA alumnis getting together and making collaborative effort actively to be reunited with all the ex-students
In our first meeting conducted on 28th April, it was heartening to find a lot of initiative and enthusiasm in our alumnis to get-together again and network with as many as possible.
It was proposed that we can form WhatsApp group and Facebook page to get connected. To make it more focussed it is essential to use these platforms only for genuine alumni related correspondence. Jokes and forwards may dilute the objective. Hence,let us support alumni Whatsapp admins like Gautam Ghosh in maintaining the sanctity of the decision.
Alumnis also decided to together make Faizabad a better place to live in. Some proposals like renovation and beautification of Ekta crossing and plantations on Independence day came up.
It was thought that we can also have a cycle rally and think about having an exclusive JBA Alumni club.
It was decided that we shall have meeting at 5pm on every second Thursday and 4th Saturday of every month at Pitara craft and cafe. Regular and consistent getting together shall help in moving ahead with the objective of having a strong alumni association.
Looking forward to meeting you all on 12th May at 5pm at Pitara craft and cafe. Bring the alumnis whom you are in touch with.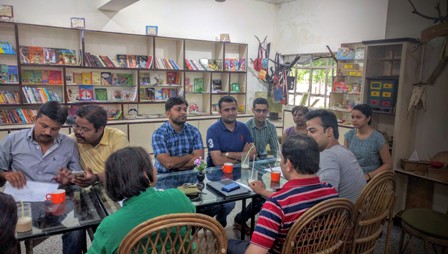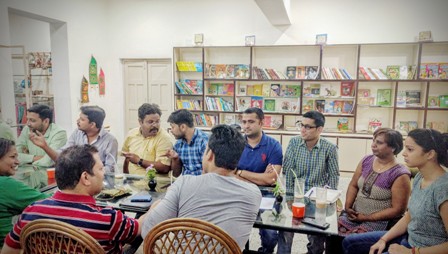 It was a pleasure to meet some of the alumni on 12th May,16.
We discussed about possibilities of following projects that can be taken up:
Exclusive JBA alumni sports club, distribution of toys to children of women inmates in Faizabad jail, plantation and their maintenance, Go Cart programme with alumni support, internship for current JBA students, helping in the blind school, installation of water coolers, having education facilities for rag pickers, teaching craft work at orphanage, distribution of articles to victims of fires in summer at villages, accelerating work of Faizabad stadium, awareness about parking area near Chowk, car pooling for dropping and picking children at school, open theatre/film club, outstation treks/ trips for alumni etc.
Teams for installation of water cooler and planning for JBA alumni club were made and renovation of ekta crossing project and paving of road near JBA made further progress.
Next meeting shall be conducted at JBNSS Head office conference room(old Jingle Bell School campus) on 28th May,16 at 6.30pm.
Looking forward to meeting you with more alumnis you are in touch with.